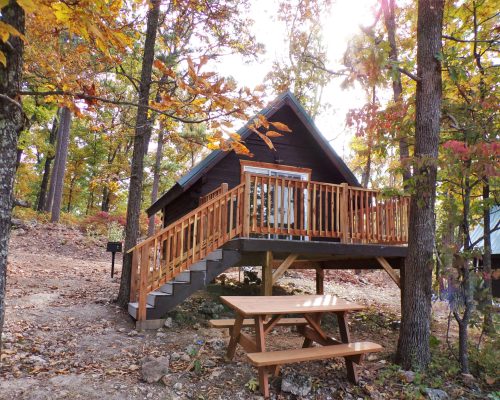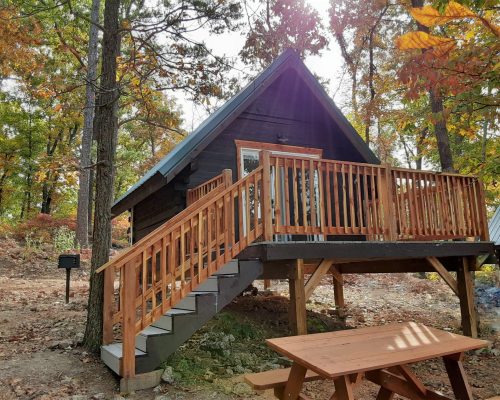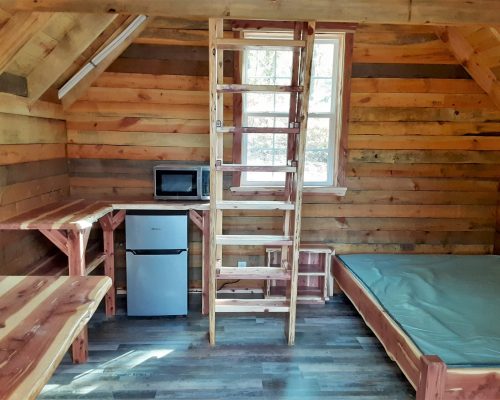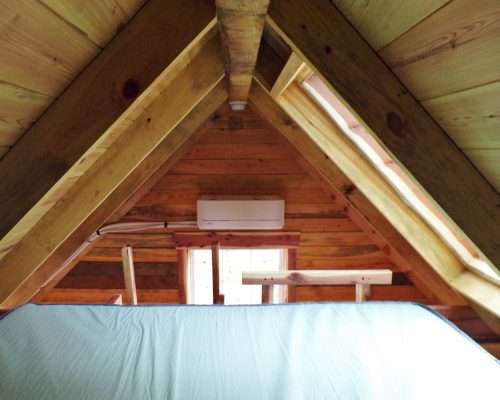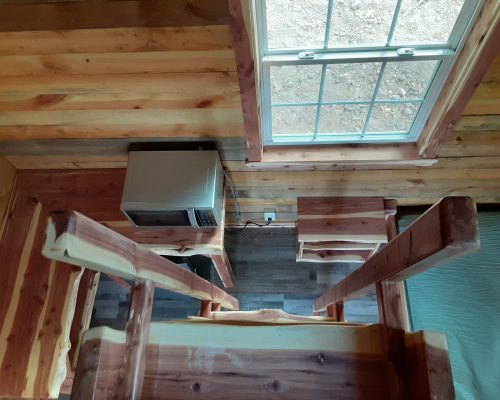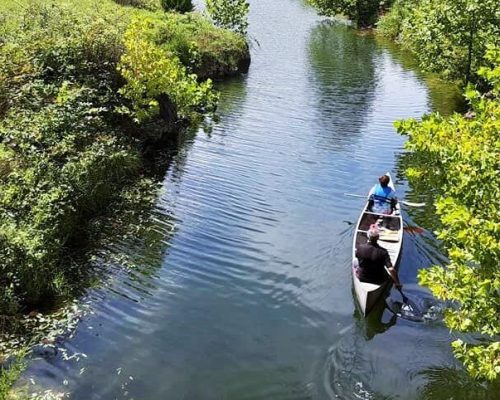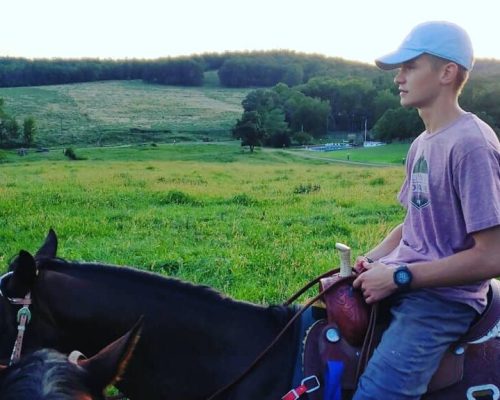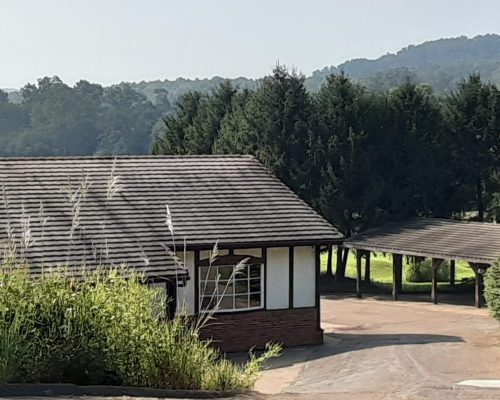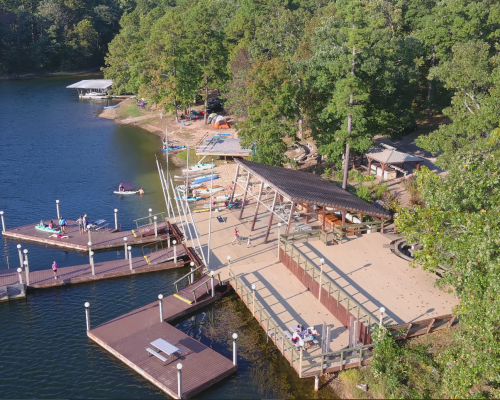 This primitive cabin is a great way to connect with nature, while still being able to retreat indoors at night. Unique space – the loft has a skylight; primitive – has electricity but no running water. The newly remodeled shower house has restrooms and hot showers and it is within walking distance. You will have amazing lake views and will be close to hiking trails, horseback riding, and wine tasting at Edg Clif Wineries which is next door to us.
The space:
2 beds, 1 queen bed downstairs, 1 king bed in the loft. Please bring sheets, pillows, sleeping bags if needed.

Microwave, minifridge, heating & A/C.

Outdoor firepit and charcoal grill.

Free WIFI available through T-Mobile 5G.
Check-in/Policies:
Check in hours are 3pm – 8pm. Check-out time is 11am. Door code will be provided upon check-in at the Country store, across the street from the Lodge. 2 night minimum stay.
Refund Policy for Spring Lake Ranch Missouri.
Thank you for choosing to book your accommodation through Spring Lake Ranch Missouri. We strive to provide excellent service and ensure a fair refund policy for all our guests. Please carefully review our refund policy outlined below as it has recently changed:
1. Full Refund within 7 Days of Booking:
1.1 If you decide to cancel your booking within 7 days of making the reservation, you will be eligible for a full refund, minus a 10% of booking total cancellation fee.
1.2 To initiate the refund process, you must cancel your reservation by sending a cancellation request email to: info@springlakeranchmo.com. Please note that refunds may take up to 5-7 business days to reflect in your account, depending on your payment method.
2. No Refunds After 7 Days of Booking:
2.1 If you cancel your reservation after the initial 7-day period has passed, no refunds will be provided.
2.2 This policy applies regardless of the reason for cancellation, including changes in travel plans, personal circumstances, or any other unforeseen events.
3. Host Cancellation:
3.1 In the rare event that a host cancels your reservation, you may be eligible for a full refund or have the option to transfer your booking to an alternative accommodation, subject to availability.
3.2 We will work diligently to assist you in finding a suitable replacement or providing a refund as necessary.
4. Extenuating Circumstances:
4.1 In exceptional cases of extenuating circumstances such as natural disasters, severe weather conditions, government actions, or medical emergencies, Spring Lake Ranch may consider refund requests on a case-by-case basis.
4.2 To request a refund due to extenuating circumstances, you must contact info@springlakeranchmo.com and provide appropriate documentation or evidence to support your claim.
5. Travel Insurance:
5.1 We strongly recommend that you consider purchasing travel insurance to protect yourself against unexpected situations that may result in the need for cancellation or changes to your travel plans.
5.2 Travel insurance can provide coverage for various issues, including trip interruptions, medical emergencies, and other unforeseen events. https://travel.usnews.com/features/the-best-travel-insurance-companies
Please note that this refund policy applies to bookings made directly through the springlakeranchmo.com platform. If you made your reservation through a third-party website or travel agent, their cancellation and refund policies may apply instead.
We appreciate your understanding of our strict refund policy. Should you have any further questions or concerns, please don't hesitate to reach out to our support team, who will be happy to assist you.